Our Services
Highland Park Pool Repair and New Installations
Whether it be a new pool installation or a remodeling project for your existing swimming area, the highest standards must be met to ensure safety and longevity. With such a wide range of pool options from which to choose, Select Pool Services is your go-to source for all custom installation and pool projects. We recommend and install high-quality equipment and always use the latest technology to perform our services. All components of your filtration and circulation systems are crucial to the enjoyment, safety, and maintenance of your pool. And while your pump and filter may have worked fine for the past few years, they may not be working efficiently on your behalf. We can recommend options for better energy-efficiency and overall reliability.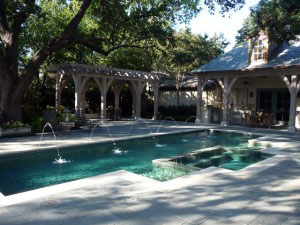 Experienced Pool and Pump Repair Specialists
Our primary goal at Select Pool Services is excellence, whether we are building your custom pool, remodeling your existing pool, or repairing deficiencies in your pool equipment. This is why we often recommend the replacement of old, failing single-speed pumps with variable-speed pumps. These pumps are self-protecting, quiet, and potentially can save you hundreds in energy costs yearly. While considering upgrades in pool pump technology, imagine the luxury of heating your spa for your arrival from anywhere you happen to be (at least, any place where you can connect to the internet!). With upgrades in control system technology, this can be a reality for you at a lower cost than you would imagine. Web-enabled control systems use your home wireless network to allow you to control almost any function of your pool from nearly any web-enabled device.
Custom Hardscape Professionals
Perhaps you are more concerned with the aesthetic value of your pool. You long to add something unique to your backyard scenery, versus looking at the same hardscape that was there 20 years ago. We can offer ideas for water features, new stone work, and updated tile that will allow you customize your swimming experience.
About Highland Park, TX
Well known for being one of Dallas County's most affluent towns, Highland Park sits a convenient 3 miles from the center of Dallas. With a small size of only 2.26 square miles, this community is home to approximately 8,900 residents. During the Christmas season, residents and tourists alike enjoy attending the annual lighting of The Big Pecan Tree, which is the oldest Christmas Tradition found in all of Dallas County. As beautiful and tree-covered as Highland Park may be, it is not immune to the heat and humidity of North Texas summers. If you're considering installing a swimming pool, it's imperative to consult a professional with decades of experience in pool installation, maintenance, and repairs. At Select Pool Services, our customers are consistently satisfied with the services and pool products we sell. Contact us today to speak with a qualified pool specialist.
Highland Park TX Pool Service Area