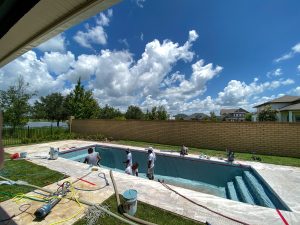 A backyard pool is amazing for so many reasons. It helps you stay cool in the summer. It can supply endless fun and quality exercise. It's the pinnacle of home entertainment. And these days, you have a lot of options for what you can get out of your pool. If you're getting serious about having a pool installed, then it's time to take on the checklist. There are five elements of a pool that you need to carefully consider before taking it to the next step. 
1. Design
A professional design firm is the first place you should go as you venture into the new pool arena. Looking into the pool's design will force you to address the major questions that have to be answered to get this process started. Where will the pool be located? How big is it? What is the shape?
There are more options than you can count, and this is how you begin to narrow down those options. It's usually best to have an idea of what you want out of your pool and go from there. Would a water feature, like a waterfall or a bubbler, make the pool the perfect oasis? Will it be used as a lap pool? Do you want a spa? You get the idea.
When you know the basics of what you want the pool to do and where you want it to go, you can dive deeper into additional design features that can be incorporated with the site you have. Your landscape designer can work with your pool contractor to walk you through all of the features available.
A pool is a significant investment for your home and everyday life. And while It would be great to have unlimited money to get whatever you'd like for your pool, budget limits will dictate some of the choices. It's best to have that in mind from the start.
2. Budget
You need to set a budget. This might force you to compromise on some of your design elements, but without a clear budget, it's easy to get lost in the sheer vastness of pool design and options. It doesn't hurt to be a little flexible with your budget, but have a number in mind. However, you should be aware that the cost for a pool is higher than most people tend to expect.
3. Materials
Pools typically come in three varieties: concrete, vinyl, or fiberglass. Each has pros and cons.
Concrete (AKA Gunite or Shotcrete) is the traditional standard. It is extremely strong and durable, and it can be formed into any shape you want, in any size you want. It takes several weeks to install a concrete pool because it's basically built from scratch. A rebar framework is created to form the shape of the pool, and then gunite is sprayed onto the framework. Plaster is then applied over the concrete. It's available in tons of colors, so the color of your pool can coordinate with any backyard design you're working with. The result is a truly custom pool. It will need to be maintained frequently, and the plaster will eventually need to be re-finished.
Vinyl pools are often the cheapest to install. They are somewhat flexible in their shape, size, and color, or you can buy a pre-designed option. Depending on the "cut" of the pool style you choose, the structure underneath is built and reinforced to meet those dimensions. Then the vinyl liner is installed over the structure. It can be installed in a total of a few weeks. But vinyl will not last forever. Vinyl liners last approximately 7-10 years.
Fiberglass can also come in a variety of sizes and shapes, but there are fewer customization options. They are prefabricated, so steps, shelves, and seats are molded into the design at fabrication. Because the pools come ready-made, installation can be relatively quick. And features like waterfalls can be added to the pool, although your options are slightly fewer than with concrete. Fiberglass pools require minimal maintenance and have great longevity. Keep in mind, though, with a fiberglass pool, you'll be paying for shipping and delivery in addition to the pool itself.
4. Decking & Landscaping
What goes around the pool? Pool coping, decks, decor, and landscaping components are all considerations that are necessary to think through to get the whole yard design right. They can also require a fair amount of construction and investment. The price of your pool won't include the deck and landscaping around it. It's important to consider the time and money that goes around the pool, not just in it.
5. Interior Finishes
One of the last big decisions you will have to make is what kind of interior finish to use. Three of the most common types include plaster, aggregate, and tile.
Plaster is the most basic and inexpensive option. It's a classic choice that requires the least initial investment. However, it can feel rough to the touch and requires refinishing more often than aggregate or tile interiors.
Aggregate interior finishes essentially mix stones or glass beads with plaster for a colorful interior. This also makes the interior last longer before refinishing is needed. The biggest disadvantages are the facts that exposed aggregate finishes are rough to walk on (though you can get polished aggregate instead to avoid this) and that the glass beads can fade in color over time.
Tile gives you the most options in terms of colors and patterns. It also tends to last longer than aggregate or plaster finishes and is the easiest to clean. However, it is also the most expensive option, and the tiles can get chipped.
Discuss each option with your pool contractor to make sure that you get the interior finishing option that best meets your wants and needs. These are your five main considerations. Answering these questions will help your landscape design team create a pool plan that suits your needs. Your pool purchase is a significant investment, and you'll want professionals to handle this massive project for you. Our crews have been installing and maintaining pools for years. We'd love to provide our expertise to you. Select Pool Services has the best team around for all of your pool installation, maintenance, and repair needs. Contact us online or call us at 214-755-7665.