Best Swimming Pool Renovation & Remodel Service in Plano and Frisco

We specialize in the remodeling and renovation of Dallas area pools. From simple cosmetic updates to large scale structural renovations, our skilled professionals transform the look and feel of

custom swimming pools

throughout the North Dallas area to better meet homeowners' needs and style preferences. If your old pool has lost its lustre,

contact our pool remodeling and renovation experts

today. We'll meet with you at your home to assess your needs and get a sense of your personal style. Together we'll create a poolscape that reflects the beauty of your home and the lifestyles of those who live in it.
Tile
Our installers meticulously set the tile you select from a multitude of possibilities, adding your personal style to the look of your pool. Learn More

Deck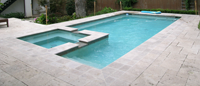 Whether you prefer a stone deck or custom concrete, our desire is to create a calming, picturesque surrounding for your pool. Learn More
Coping
Pool-side personal touches include selecting from a variety of materials, cuts, and settings to complete the border between your pool and decking or landscaping. Learn More

Plaster
Re-plastering preparation and material selection is the difference between a plaster job you will enjoy for years to come and one that will deteriorate prematurely or break loose from the subsurface. We use only the best undercoats and plaster materials to protect your investment. Learn More
Equipment
Pool equipment may affect the condition of your newly remodeled pool. Our experienced technicians can repair, replace, and add a variety of system components to make your renewed pool more pleasurable. Learn More
Indoor Controls
Instead of making the long trek to the equipment area to move valves or turn on the heater, why not have Select Pool Services install an indoor controller that is convenient and very user friendly? We can even design a system that allows you to turn on your spa heater from your smart phone. Learn More
Baby Fencing
Pool safety is one of our highest priorities. We can install fences that give you peace of mind while retaining the beauty of your pool. Learn More
Often times, a customer needs help deciding what the end result will look like before feeling comfortable with the renovation process. We work with several Landscape Architects & designers that can help with the entire process.