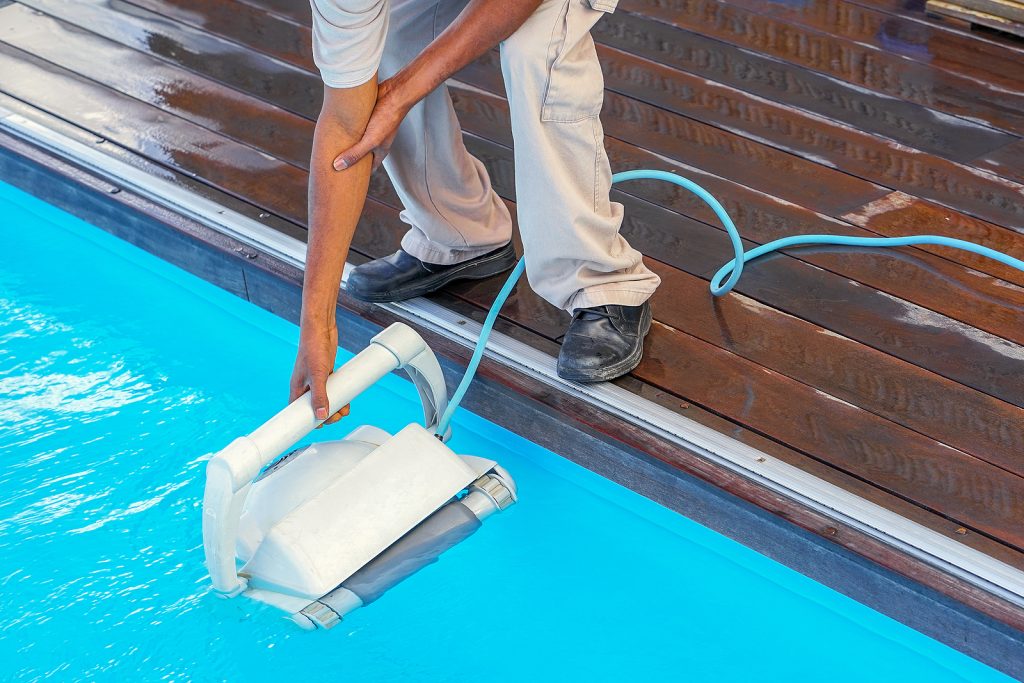 Robot vacuums can automate pool cleaning and take a major source of pool maintenance labor out of your life. They run independently and are completely water safe. Even though they're electric, you don't have to worry about being shocked. There are a ton of these robots on the market, but a few have risen to the top in terms of performance and value. This list will go over the five best robotic pool cleaners and tell you what makes them special.
1. Dolphin Nautilus
This is not the cheapest robot out there, but it is definitely not the most expensive. It is widely regarded as offering the best bang for your buck when it comes to automated pool cleaning. It's made for in-ground pools, and it can handle pools up to 50 feet long. It will clean most pools in two hours or less.
The Nautilus sets the standard for robotic pool cleaners. It has independent filtering, which means that it doesn't run through your existing filter. This helps clean the water even better.
The Nautilus can pick up all kinds of debris, even fine particles. It has automatic scheduling, and it can climb walls.
2. Dolphin Premier
You might notice that Dolphin has the top two spots. There's a reason for that. The company pretty much wrote the book on robotic pool cleaning. Everyone else is chasing Dolphin.
The Premier is an upgrade from the Nautilus. It has changeable filters that clean any type of debris. It can get even finer debris than the Nautilus. It has remote-control (only higher-end versions of the Nautilus have this feature).
The Premier is also extremely power efficient. Dolphin set the standard for power efficiency with their robots, and the Premier earns its name among the Dolphin ranks. The only reason this isn't at the top of the list is that the Nautilus is sufficient for most backyard pools and comes in at a lower cost.
3. Dolphin Sigma
OK, Dolphin. That's the top three spots. At this point, they're just showing off, and you'll think that even more when you read about the specs of the Sigma. This is a commercial-grade pool cleaner. It costs more than the Premier, but not by a lot.
The Sigma is sufficient to be used by small pool servicing businesses. It can handle much larger pools than its smaller siblings. If the Premier is a Cadillac of robotic pool cleaning, the Sigma is a Ferrari — except it doesn't have a ridiculous price tag.
4. Aquabot Spirit
If you're looking for pure affordability, the Spirit is probably the cheapest robot you can get that still works well. It's not quite as powerful and advanced as the rest of the list, but you can get it for less money. It still has plenty of features that will clean most backyard pools.
The Aquabot is an independent filtration system. It can handle fine particles, and it can clean a pool in two hours. It only has a two-year warranty, which falls short of the Dolphin's three-year standard, but the Aquabot is a reliable machine that lasts. It even features wall climbing. If you're trying to save some money, this is a great option.
5. Polaris F9559
The Polaris is not a penny-pinching option. However, there is one particular feature that makes the Polaris great, and if you need that feature, you'll be hard-pressed to find a better robot.
The Polaris shines when it comes to abnormal pool designs. Any of the robots can handle a rectangle or a kidney, but if you have something unique to clean, the Polaris software will map it better than the other robots.
In terms of raw cleaning, it's comparable to the Dolphins, but it doesn't add significant improvements in cleaning for the extra price. The reason this makes the list is that it's the smartest robot when it comes to mapping strange pool designs. Cleaning robots can make your life a lot easier, but some jobs still require a human touch. Any time your pool needs repairs or major work, Select Pool Services is here to take care of you. We're pool experts, and we've been doing this for years. Contact us any time, and we'll discuss your situation and help come up with the best possible resolution.