What's trending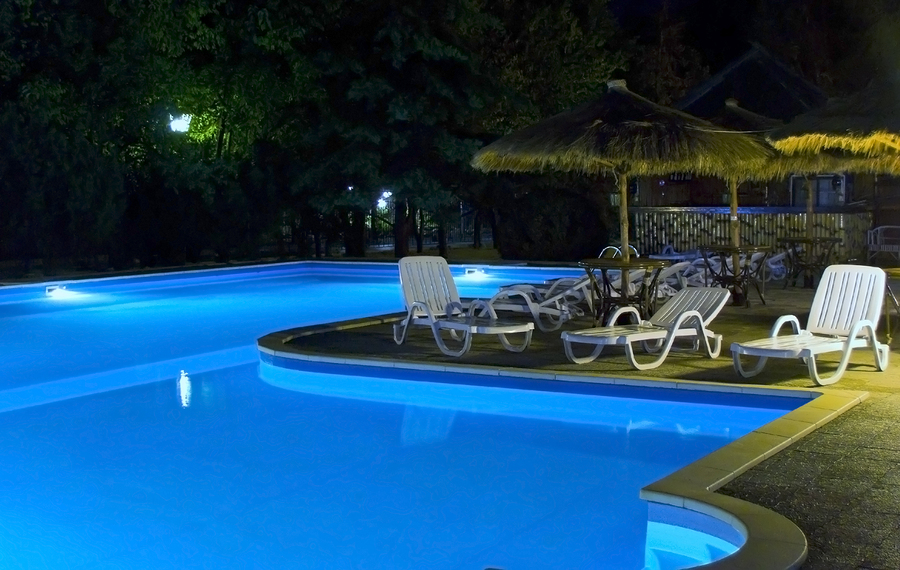 Imagine pink flowers nestled in a field of blue and white. There are some jumping dolphins, part of a 5-piece, six-inch by six-inch mosaic. Brilliant blue 3-inch squares jump out from the white plaster beneath them. This style of waterline tile was all the rage during the second half of the 20th century. They dominated backyards in suburban Dallas during this period, with various decorative color schemes in symmetrical shapes all designed to stand out from other parts of the pool. There are still more than a few around town, dilapidated and faded. They remind us that times change, and that manufacturers are trying to keep up with trends in real time.
Picture, if you will, a hypothetical graph that represents popular movement from one trend of residential deck surface to the next trend, to the next, and so on. You will follow it through trends that are dictated mostly to certain aesthetic qualities, such as the rugged look of seeded aggregate concrete or the upscale appeal of a Pennsylvania greenstone overlay. This is followed by cool slip-resistant deck textures, or light-colored concrete or stone finishes, all of which have the comfort of swimmers in mind. Technology and innovative design concepts have brought about coatings that mimic the look of real stone to satisfy consumer demands for beauty, comfort, and relevance. As you trace this timeline in either chronological direction, you may wonder what factors bring about any given trend. Have designers' or manufacturers' concepts led the way, or did consumer demands create turning points along the path?
This chicken-and-egg dilemma could probably be answered by some cement pond builders from the early-to-mid 20th century, when in-ground, residential pools were becoming popular. As a feature in landscape design, a pool becomes more than a utilitarian way to cool off; it can also enhance the appeal of a backyard—a luxurious oasis in hot summer and an eye-pleasing component of an outdoor living space throughout the years.
But a decade or so after they're built, pools will need some level of repairs. In Texas, soil movement causes some pools to crack and leak. During the 1980s, some remodeling and repair companies decided that a fiberglass coating applied over a concrete pool might serve two purposes. First, they hoped it would cover and "waterproof" cracks and other imperfections in a pool's concrete structure. Second, they believed fiberglass surfaces would be more resistant to discoloration and staining. Neither of these proved true. In fact, because of how fiberglass coatings interface with penetrations in a pool (inlets, pool lights, drains, etc.) and with waterline tile, they are at least as vulnerable to leakage, if not more so. And anything containing chemically-treated water in outdoor environments will stain and discolor; if the water chemistry is out of balance, it will wear away at the fiberglass coating, ruining bathing suits, clogging filters, and causing leaks. This refinishing trend has almost faded completely into obsolescence. The cost to remove the coating and restore the surface to its former glory is over 50% more than a standard resurface job would cost.
Yes, sometimes well-intentioned trendsetters will lead us into muddy waters. Such is the case with 2-speed pumps. The stated purpose was to save energy by running the pump at the lower speed almost all the time for filtration. The higher speed was meant for greater spa action or other pool features that required more flow. Unfortunately, professionals began to realize quickly that the low speed could not circulate the water well enough for chemistry's sake – especially when the filter became impacted with debris – and that some components required better flow for functionality, such as natural gas heaters. The higher speed damaged filter internal components and wasted electricity. Fortunately, manufacturers have invented and steadily improved variable speed pump technology, which allows you to choose from many speed settings for various purposes. They are becoming more mainstream, helping pool owners pay less for electricity and conserving non-renewable resources.
New construction trends lean more toward monolithic outdoor concepts, where no one component of a living space stands out from the others. Rugged landscapes with lush greenery and natural stonework have pools with boulders and Oklahoma flagstone coping and tile that are indistinguishable from the surroundings. Even in upscale modern spaces, decks and walls and water features will often be composed of the same limestone, such that the entire design is continuous. Certainly, there are centerpieces – a fire pit or fireplace or fire/water bowl (customers are on fire about fire) – and designer walls and water features that grab your attention, but overall, pool owners seek a design that flows well with the surroundings.
Whether you grew up with pools of diving depth or now enjoy a game pool with symmetry and shallow waters, each pool sits somewhere along numerous trend lines and may be setting or perpetrating a new trend. The important thing to remember during a pool renovation is to make coping, tile, plaster, and deck selections that are forward-thinking while still choosing what pleases your eye. When the time comes, those up-to-date pools will help a home sell more quickly than those out of a 90s time capsule. And one last bit of advice: be sure to ask for extra tile during a remodel—available tile selections change like Texas weather!