Summertime in the Dallas–Fort Worth area can be downright brutal. From the sun beating down on you to the scorching temperatures, residents in the area are constantly looking for ways to cool down. While some people turn to their thermostat to crank down the home temperature, others jump into their sparkling, refreshing pool. If your whole family can't get through the summer without a pool, it's vital that it is maintained regularly and properly. If the proper maintenance tasks are neglected, then you may have to deal with several costly pool problems.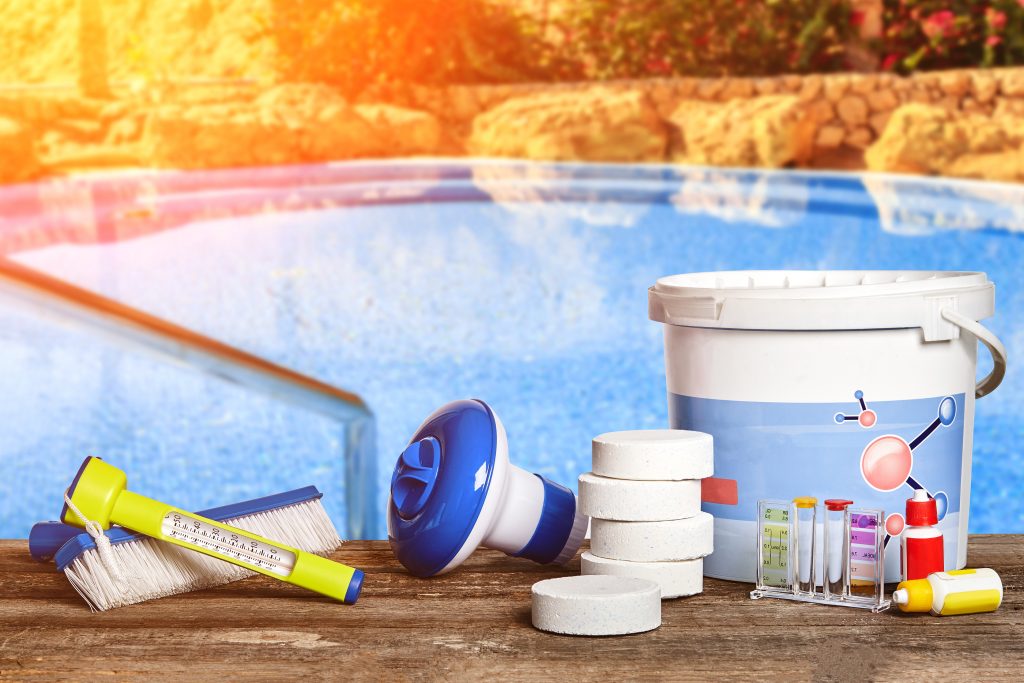 What's involved in pool maintenance? Although the list is long, checking pool chemical levels is one of the top concerns. In this post, we'll dive into what should be used to check these levels and how to complete the process safely and effectively.
Water Quality Is Key
If you're a happy owner of a pool, then one of the biggest factors to consider is the water quality. In order to have a healthy and happy pool for your family and friends to love, paying close attention to the water quality should be a top concern. In fact, most pool problems stem from poor water quality, which can cause algae growth and skin irritation. Additionally, some microorganisms thrive in a dirty pool environment, which can make your family sick. But how in the world are you supposed to monitor the water quality of your pool? It all starts with utilizing a pool test kit.
Preparing for the Test
To test the quality of water in your pool, you'll want a chemical test kit and use it two to three times a week. If you run into issues with your pool or if it's being used a lot more than usual, then you may want to test the water on a more frequent basis. When using a pool test kit, a solid kit will test the levels of the following:
pH
Total chlorine
Calcium hardness
Cyanuric acid
Total alkalinity
If you're looking to test for even more chemicals, then there are options that make that easy. Once the desired kit has been chosen, you'll want to ensure that all instructions are read and understood before proceeding to the next step. Another option you have is to take a water sample to a professional pool store where they can test the water quality for you. If you choose to handle the process on your own, follow these tips after you choose your pool test kit:
Step One: Collect Water Sample
The first step in the process is to gather a water sample from your pool. However, it's key to remember that you want to get an accurate assessment of your water quality. Simply taking water from the top of your pool won't give you the proper and most accurate reading. Instead, you'll want to gather a sample from a depth of around 18 inches.
Step Two: Fill to the Line
Your test kit comes with vials for you to test the levels of each chemical in the water. Pour the water you've collected into these vials, and make sure that each one is filled to the line indicated on the vial.
Step Three: Add Reagent
The next step involves adding reagent. To do this properly, read the provided instructions for the correct dosing requirements. Most instructions will tell you to add a specified number of drops to the water. You'll want to add the reagents slowly in order to add the proper amount.
Swirl to Mix
Once the test chemicals are added, you'll then want to cap the vial and swirl the contents in order for them to mix together. Then wait for the period of time instructed on the kit and compare the color of the water to the table on the kit. This may also be located on a card or on the vial itself.
What Readings to Look For
When you have your readings, you'll want to understand what the ranges mean and what indicates good water quality. Here are the ideal readings you want:
pH – 7.2 to 7.6
Total Chlorine – 1 to 3 ppm
Calcium Hardness – 200 to 400 ppm
Total Alkalinity – 80 to 120 ppm
Cyanuric Acid – 30 to 50 ppm
From checking water quality to making repairs and improvements when needed, Select Pool Services has you covered. We provide our exceptional services to pool owners in the entire Dallas–Fort Worth area. Select Pool Services has been in the business for over 30 years, and we provide everything from pool remodeling solutions to speedy pool repairs. For unbeatable pool solutions, contact us today.