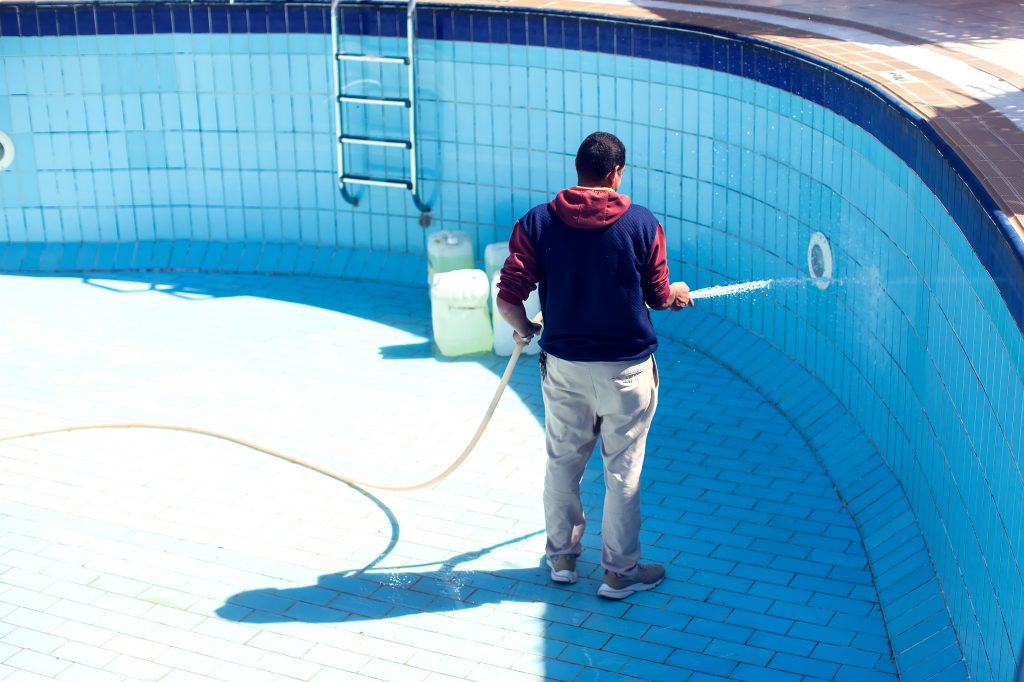 The Dallas area is in a hot part of the world. Summers are long, and they can be merciless. One of the greatest ways to beat the heat every year is to have a pool. If you think you could enjoy having your own pool, you have to consider a few options. Backyard pools can be installed in the ground or above it. Which is better?
The main differences between above-ground and in-ground pools revolve around these 5 things: cost, maintenance requirements, how they can be used, versatility of design, and safety. Here's an in-depth breakdown of each of these elements to help you decide between an in-ground pool and an above-ground pool:
1. Overall Cost
On paper, above-ground pools cost a lot less than in-ground pools, but when you look a little deeper, this becomes less clear. The out-of-pocket expense is clearly higher for in-ground pools, even when you compare them by size. That said, there are more costs to owning a pool than just the installation.
The more important comparison is value retention. An above-ground pool will lose value over time, no matter how it is constructed or designed. The same is not true for in-ground pools. How much value they add to a home depends on several factors, but in general, the money you pay to build an in-ground pool is recouped as increased equity in the home. That means that in the long run, you're losing money with above-ground pools and not in-ground pools.
2. Maintenance Requirements
This is another case where the above-ground pool seems easier at first glance, but it isn't so straightforward. The most important part of pool maintenance is maintaining water quality. You have to prevent algae and microbes from growing. Gallon for gallon, both types of pools need the same maintenance, and it costs the same amount of money.
That said, in-ground pools tend to have better filtration systems because they're made for much larger volumes of water, and they're made to last much longer. Because of this, in-ground maintenance is often easier, and in some cases, the long-term, gallon-for-gallon cost of maintenance is lower for in-ground pools.
3. Function
Both types of pools are great for splashing around and cooling off, but have you ever seen an above-ground pool that was fit for swimming laps? How about throwing a real pool party? For function, there are undeniable advantages to the in-ground model. You can get a lap pool. You can have a large party pool. Really, you can get any type of in-ground pool that you want. Above-ground designs are far more limited.
4. Design Options
There's no contest in this category either. It's hard to make an above-ground pool aesthetically pleasing. Sure, there are add-ons that exist, but they pale in comparison to in-ground options. Have you ever seen a gorgeous in-ground pool lit up at night? It can be breathtaking. You can add waterfalls and fountains. You can get creative with decking designs around the pool. Some people even have persistent fire in their pools. An in-ground pool can be a legitimate masterpiece. It's hard to find comparable masterpieces in the above-ground variety.
5. Safety
Once again, conventional wisdom will lead you to assume above-ground pools are better in this category. After all, there are more drownings in in-ground pools than above-ground pools. But there's a big caveat to that statistic. There are a lot more in-ground pools than above-ground pools. When you account for that difference, you find that drownings happen in both pools at about the same rate.
Unfortunately, above-ground pools have a unique risk. You can fall off of an above-ground pool, and when you do, you're landing on solid ground. If you fall into an in-ground pool, you land in water. Quite a different situation.
There's an additional issue with structural integrity. As long as in-ground pools are built correctly and receive regular maintenance, you won't have to worry about structural problems. More importantly, when those problems arise, they don't usually put you in immediate danger. You need to deal with the issue to keep the water clean and possibly prevent water table issues, but you often have time to figure those problems out. Moreover, signs of impending problems can be spotted and addressed by your regular pool maintenance staff before they ever become dangerous issues.
When an above-ground pool has structural damage, it can lead to an instant flood. A torrent of water can create immediate danger and damage. It's not a pretty sight. When you consider that an above-ground pool can't possibly be as strong — structurally speaking — as the in-ground variant, it's easy to see how the risk can be greater for an above-ground pool.There's absolutely nothing wrong with having an above-ground pool. They can be fun, refreshing, and fully enjoyable. But if you want the best pool, it has to go in the ground. Select Pool Services builds customs pools and spas that can improve your quality of life and dazzle your eyes. Take a look at our selection and call us to get started designing and installing your pool.