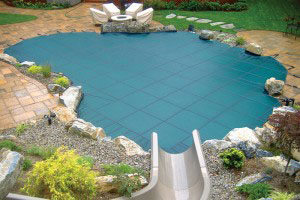 Loop-Loc offers more than just the norm. It offers safety covers, liners, baby-loc and more. With different sized covers and colors, you can style it to your liking. Loop-Loc gives you luxury like you've never seen before. However, you can't enjoy luxury without the assurance of safety which is also a high demand for this brand. You'll feel styled, safe and secure. It's an all in one package that makes you feel like your pool isn't just a pool, but a vacation outlet.
Benefits
Loop-Loc ensures safety like no other brand by offering pool covers. It keeps everyone in your family safe from falling in and helps your pool from getting too dirty. This brand also offers a baby-loc, for those families with small children. Baby-Loc is a removal fence that provides protection for your toddlers by preventing them from getting near the pool. These are also perfect when you have a raised deck around your pool. With Loop-Loc you can be sure that you are buying products that last, and that's why at Select Pool Services, we offer products that our customers will find satisfaction in using.
Pick The Brand That Fits You Best
There are many brands to base your decision off of. Different brands have different specialties and offer different qualities and products. It's important to us that you pick a product essential to your needs. Every pool is different, thus people choose the brands that best fit what their pool requires. If Loop-Loc isn't the brand for you, don't worry, we have a list of other brands you can choose from. Check our brands page for further information or call us today and we can answer any questions you may have.