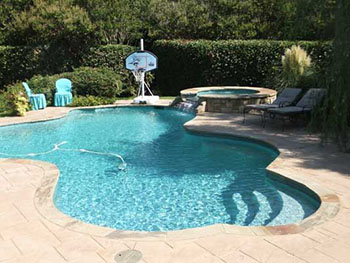 If you want to cool off in sunny weather or stage a home, it's important to maintain your pool. Crystal-clear water makes your swimming pool look pristine and your backyard well maintained. Algae is a troublesome pest that makes pool water unsightly, murky and unsafe, but there are simple ways to address the problem. Here is how we combat algae in our pools.
Why Algae Loves Swimming Pools
Most homeowners deal with algae growth at some point, especially during the warm months. Invisible to the naked eye, algae spores can sneak into your swimming pool from dirty pool toys, spores carried by the wind, and rain that rinses organic material into the pool. Algae can rapidly multiply and cover the surface of your pool in a very short period of time!
Algae is as much a cosmetic issue as it is a serious health hazard. It is unpleasant to dive into dirty water, and slimy steps can lead to accidents. Algae loves to multiply in water because in-ground pools are hotbeds for organic matter: dirt from bodies, clothing, and pool accessories, but also grass clippings, leaves, and dead insects. Thesemicroscopic plants makes energy through photosynthesis, meaning that they thrive on sunlight. An algae problem always makes it unsafe to swim, because a good, useful residual level of chlorine will attack and consume some algae and some bacteria, leaving a remnant of active bacteria and algae that can cause infection for swimmers.
Identifying Your Algae Problem
Identifying the type of algae lurking in your pool helps homeowners to know how to address the problem. First, confirm that your pool looks discolored because of algae and not because of improper chemical balance or lack of filtration. Algae has at least three colors and, when left untreated to multiply wildly, hasa distinct mossy texture. It feeds on phosphates, which come into the water from organic compounds in the environment and can also appear in make-up water in high concentrations – so refilling a pool constantly can assist algae growth:
Green algae, or chlorophyta, is most common. Slick, slimy, and mosscolored, green algae loves to hide in dark corners. This type is easier to treat than others but multiplies rapidly. Chlorination, brushing, and phosphate removal help get rid of this type.
Yellow algae, or phaeophyta, is recognized by its yellow-brown color and moldy look. Yellow is more difficult to combat and remove; it requires a daily regimen of algaecide/chlorine/brushing, as well as phosphate removal.
Black algae, or cyanobacteria, spells serious trouble for homeowners. More common in ponds and lakes, black algae can crop up in poorly maintained pools, especially in cracks in cement or tile.
Treating Algae Before It Develops
There are easy steps you can regularly take to prevent algae overgrowth. Cut back plant life, including vines and trees, from overhanging the pool as best you can. Keep deck drains clear of debris so that rainwater washes awayinto drainage plumbing and not into the pool. Clean bodies, feet, bathing suits, and toys always prevent algae and bacteria infiltration.
A clean and healthy pool begins and ends with a clean, well-maintained filter. If your system is old, consider installing a replacement filter.Your pump and plumbing also may inhibit filtration. Be sure to use a chemical testing kit whose reagents have not expired to maintain a proper chemical balance; chlorine sanitizes differently in balanced versus imbalanced pool water. If you struggle to regularly perform basic pool maintenance, an automatic pool cleaner might be a good option. Having a reputable professional clean and chemically maintain your pool is the most reliable solution.
Attempting to Remove Algae From Your Pool
If your swimming pool is already infested with algae, address the issue as soon as possible. Here are four tips to get rid of the algae and stop regrowth:
1. Circulate your pool water
Run your pump 8–12 hours per day to prevent algae from building up on pool surfaces. Clean the skimmer and pump circulation baskets to ensure your circulation system is optimal. Using phosphate remover will likely be necessary, but it can compact your filter. Backwashing or cleaning your filter regularly during algae removal is necessary for success.
2. Shock and Brush
Calcium hypochlorite shock treatments get rid of stubborn algae. In proper doses based on your pool volume, this compound is safe for saltwater and freshwater pools, and it's relatively inexpensive. Make sure to maintain a good chemical balance, as cal hypo increases pH and calcium hardness. After the water turns murky blue, brush like crazy and run the filter for several hours. Regularly brushing your pool prevents algae build-up. Buy a brush that's equal parts nylon and steel to for effectiveness that prevents interior finish damage. Brushing away algae only works if the bristles are stiff; protect the bristles from softening and falling off the brush head by storing pool equipment in a clean, covered space.
3. Vacuum up the spores
Before you get started, fish out organic matter with a pool net. Automatic pool vacuums spread algae spores, so you must use a manual vacuum. This is particularly important,because algae will have settled on the bottom of your pool after shock/brush.  You'll then need to address a dirty filter at least one more time.
4. Drain the pool
There are some algae problems that result from water not having been refreshed often enough so as to dilute certain molecules that can inhibit chlorine function. Also, some yellow and black algae infestations are so severe that draining and allowing the algae to die without water might be your only solution. This should be left to a professional.
If your algae problem keeps coming back, it's time to seek help. Select Pool Services has over 30 years of experience repairing swimming pools in the North Dallas area. Our team of licensed technicians offer expert craftsmanship, excellent communication, and a personalized approach to eliminating pool problems. We never overbook so that we can provide on-site supervision and fast turnaround times.While we do not offer a weekly maintenance program, we can help you overcome problems and point you to a very reputable company. Contact us today to discuss setting up a consultation.