Where does it all go?  Money and your swimming pool.
During our years of excellent service as Select Pool Services, I have seen a great juxtaposition we need to address.  Most consumers seem to have a basic understanding that one gets what one pays for.  Not great grammar, but a true statement.  At the same time, some pool owners get frustrated with the amount they pay for parts and service (and sales tax).  We receive great reviews, with praise like, "They replaced my pool filter pump on a Saturday, were very friendly, and I could not be more pleased."  The same reviewer may then mark down our "Price" rating by one or two stars.  Now, don't get me wrong – this is not a complaint, and I think some of the concerns about cost are justified.  I hate paying more than what seems necessary for any good or service.  But the dual thinking is real:  I want things done right and understand that costs money, but why does great service cost so much?  Why does pool equipment repair come at a high price?  And, frankly, why does it seem I never stop throwing money at my pool?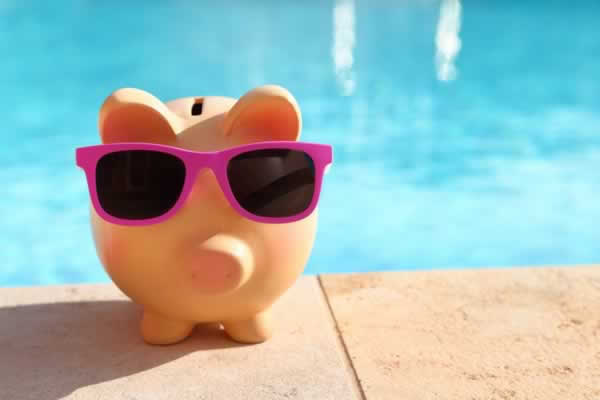 What? Is it made of gold!?
Material costs really do account for the greatest charges, in most cases, on the invoices we generate.  It sometimes amazes me to see how much our pool parts supplier charges us monthly.  All major pool components are designed by different manufacturers trying to fill their definitions of a pool's needs.  So, with Zodiac (Jandy), Pentair, Hayward, and others commissioning their engineers to design and implement products in ways they determine will best serve consumers, it's no wonder that they charge premium rates for their products.  Each believes its design and implementation is the most valuable, and each knows how much research and effort goes into production.  And the overall goal is to build whole goods designed to last in exterior environments.
Now, while no components are made of gold (as far as I know), some are made of copper and other metals whose market prices are constantly rising.  Heaters are chock full of materials that are designed to withstand high heat, pressure, and the elements.  Every metal accessory used in swimming pool filters, swimming pool valves, and swimming pool pumps must be a high-grade stainless steel if it should last even a few hours in chemically-treated water.
Technological advances also play a vital role in dictating the cost of pool equipment and pool accessories.  A variable speed pump, such as the Intelliflo by Pentair, will cost 50% more than a standard, single-speed pump.  Why?  Because each one contains an on-board computer designed to work directly with a specialized pump motor to regulate rotations per minute (RPM) down from the typical 3,450RPM at which all other motors operate.
It never ends
One customer of ours decided during her remodel that she wanted to replace whatever needed to be replaced in her equipment set.  "And once that's done," she declared, "I want it all to last."  Even indoor appliances have a shelf life.  I've replaced several water heaters in houses I've owned (and as a plumber in the United States Air Force), all of which were located in conditioned environments.  Televisions, dishwashers, microwave ovens – they all stop working eventually, even though they remain indoors.  Pool pumps, lights, GFCIs, filters, automation, and even time clocks are typically located outdoors on residential pools and spas.  In temperate climates like that of Texas, we can experience 100-degree temperatures and freezes in the 20's within four months of each other.  Drought, thunderstorms, high winds, & power outages all are factors that affect how pool equipment operates and how long it lasts.  If you own a salt water pool, where special equipment uses electricity to make chlorine from salt molecules, you will replace one of the salt generator components within 3-5 years of installation.
Keep the meter running
Electricity and water should never mix… except in swimming pool equipment, where electricity helps systems keep time, provides energy for pumps, and illuminates the water at night.  Lights and time-keeping use very little electricity; but filter pumps, cleaner booster pumps, water feature pumps, etc, use quite a bit of energy.  If you run your main pool pump as long as you need for the proper turnover rate (number of times it takes all the water to go through the filtration process in one day), your pump will run anywhere from 6 to 15 hours, depending on the pool size and system.  These 240v (typically) machines can really burn through electricity, and they must run every day.  Knowing the cost of operating a pool, we always recommend an energy-efficient option when a customer needs a new pump.
Heaters use natural gas in most residential set-ups.  Even heating a spa (hot tub) regularly can use quite a bit of energy.  If one decides to heat the entire pool, the energy use really grows exponentially.  Luxury has its price, and in many cases, the cost is well worth it.
Singing for your supper
One last category remains:  the cost of labor.  In a large market, such as the North Dallas area, one pool company tries to get away with charging as little as possible.  Another is a one-man operation with very little overhead.  A third might be desperate for work, seeking a high number of jobs versus taking the time to do each job right.  On the opposite, more appealing end of the spectrum, you will find Select Pool Services.  Our technicians are college-educated men, licensed by the state of Texas, who have worked with their hands all their lives.  This combination means you can trust our craftsmanship, receive intelligible answers to your pool and spa questions, and know that we are working as efficiently as possible to save you time and money.  Give Select Pool Services a call today, and discover that getting "what you pay for" can be a beautiful thing with the experts in pool equipment and pool renovation.