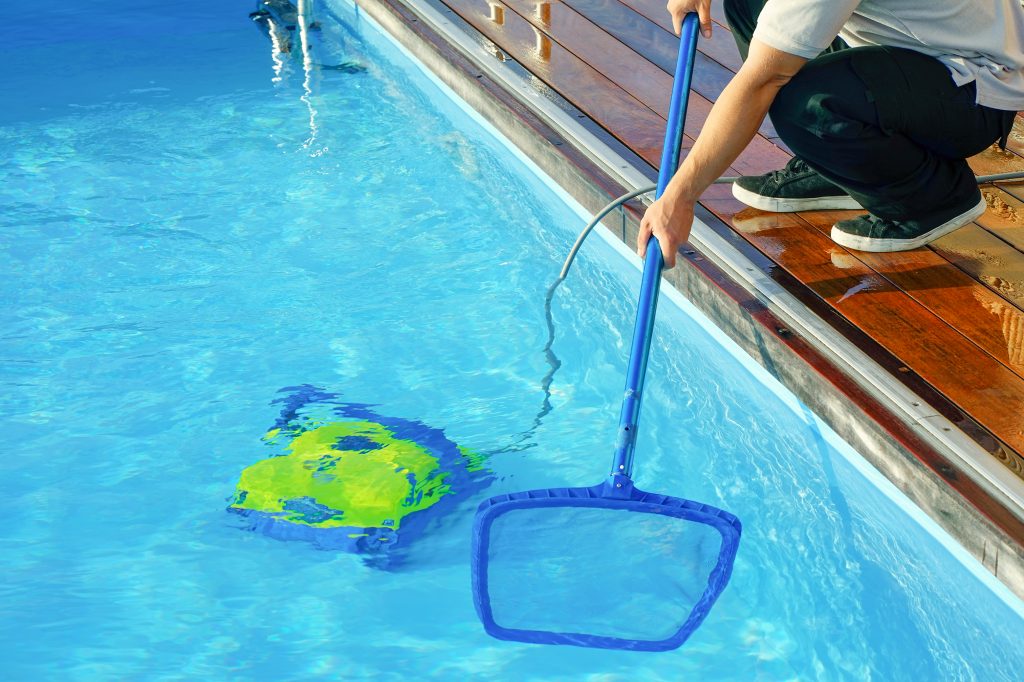 With summer just a few months away, your kids are probably eager for those temperatures to rise. Although this is a very exciting time for your family, it's up to you to ensure that you have the right pool equipment for a long and fun pool season. In addition, there are many maintenance tasks to complete before those warm temperatures arrive. There are multiple parts you have to think about, but a top priority should be your pool filter. If you're new to pool ownership or considering a different filter, you may be unfamiliar with the various types of pool filters on the market.
In this post, we'll dive into the different types of pool filters available today, and we'll even point out some of their pros and cons.
Diatomaceous Earth (DE) Filters
Diatomaceous earth (DE) is known around the pool industry as the most effective way to clean pools. In fact, this method is known to provide the cleanest water out of the three filter options we'll discuss. When these filters are used, water moves through the filter and flows across multiple grids coated with diatomaceous earth.
Take a look at some of the pros and cons of DE filters.
Top-Notch Cleaning Power
The leading benefit of these filters is that they can remove particles from the water that are as tiny as three microns across. This allows for exceptional cleaning power, which can result in sparkling-clean pools that are safe for swimmers, as the smallest of microorganisms are removed.
Expense and Practicality
While the cleaning power of DE is unbeatable, it does come at a cost. Up front, there may be more plumbing involved, because a backwash valve is required. This valve allows the reversal of water flow through filter internal plumbing, pushing filtered material and DE off the grids and out to the sanitary sewer system. The main expense involved with these filters is the periodic cleaning they require. We recommend breaking them down completely and rinsing all the grids every 6 months. Since their internal components are somewhat difficult to reassemble, and because there is a safety hazard involved if not done correctly, many customers have qualified personnel perform this maintenance. Other expenses include the makeup water needed after backwashing periodically to the sewer; however, it is always a good idea and will be necessary to dilute pool chemistry by removing and replacing water. DE filters are impractical for people who have a septic waste system or have no backwash piping that leads to their city sanitary system. Backwashing water on the ground is illegal and mostly ineffective at removing filtered debris.
Summary
Diatomaceous earth filters clean more efficiently than all others and can be found anywhere there is a city sanitary sewer system through which to send filtered debris. They require more tedious maintenance that can be more costly.
Sand Filters
A sand filter is another option you have when it comes to a pool filter. Sand filters were widely used in the past, but new technology and advanced filters have made these sand models far less popular. They are used mostly in commercial or multi-residential pools, probably because they require the least-frequent maintenance. Other than a backwashing every month or when filter pressure rises 7psi, these filters go the longest before needing to be taken apart. However, even at a frequency of 5-7 years, replacing sand can be costly and painstaking.
Barely Does the Job
At best, sand filters will still do the job of filtration. These filters remove particles down to 25 microns, which is not as efficient as cartridge filters and pales in comparison to the cleaning power of DE. Over time, with high pressures and moving water, the coarseness of sand lessens. The crystalline nature of sand is what does the filtering, so rounded sand is worthless.
Summary
Depending on whom you ask, these are either the worst filtration systems or the most easy-breezy. However, there is no doubt that they are an awful choice for pools that get hammered by organic materials. And when they fail, they fail miserably.
Cartridge Filters
If you have a residential pool, then there's a good chance you use one of these filters. In fact, they are the most popular filter for residential pools. That's because there are tons of benefits that make these filters a top pick for many. Here are some key points to consider.
Universally Beneficial
One reason why these filters are so popular is that they can be used universally, as they do not require backwashing. Whether this appeals to an environmentally-conscious population or a home that has no legal backwash line or sanitary sewer, there is a broad spectrum of homeowners who benefit from cartridge filters. These filters use pleated polyester fabric to clean water, and given that the water isn't backwashed, far less water is wasted. Still, keep in mind that dilution of water is absolutely necessary to prevent stagnancy and to reduce parts of the chemical makeup of water that cannot be altered by anything but a drain and refill.
More Resilient
Cartridge filters allow higher flow rates than other filters while still filtering out debris relatively well. This means that higher pressures will not damage internal components as easily, compared to grids in DE filters and the coarseness of sand in sand filters. If serviced and cleaned twice per year, and if chemistry is kept within recommended parameters, cartridges can last years. Still, in any and all filtration systems, keep in mind that the pump must not be able to overpower the flow rates of filters; bigger is usually better when sizing filters.
Summary
If you enjoy resilient, eco-friendly products and a cost-effective option, then a cartridge pool filter is for you. The easy maintenance is also a top benefit to consider.
Have questions on how to choose the right pool filter? Want to get started on a new pool project? Here at Select Pool Services, we can help you out every step of the way. Whether you need a quick pool repair or you need help with a pool construction project, we have the trusted pool professionals you can depend on in the North Dallas area.
Contact Select Pool Services today to schedule a quote!